7 things that made me fall in love with Kerala
Alone, as a couple or with a family, discover India in different way…
We knew India a little bit already, since we had chosen it as our first destination for our round the world trip as a family.
We stayed in the North, for about a month, unfortunately had no time to venture south.
Having been invited by the Tourism office to discover Kerala, through the Kerala Blog express, i ventured out sadly without the family this time, and had yet another incredible encounter with this country for two weeks. The beauty and diversity of its lanscapes, its warm and welcoming people, the surprising artistic culture and choice of activities to engage in really took me, and I'm excited to share my first-hand impressions with you in writing. I hope I'll do it justice!
After this trip, I can now assure you that if you are uncertain about visiting India for any reason, then start with Kerala, for this place made my heart beat and eyes water with beauty. The state's knick-name says it well, it's « God's Own Country »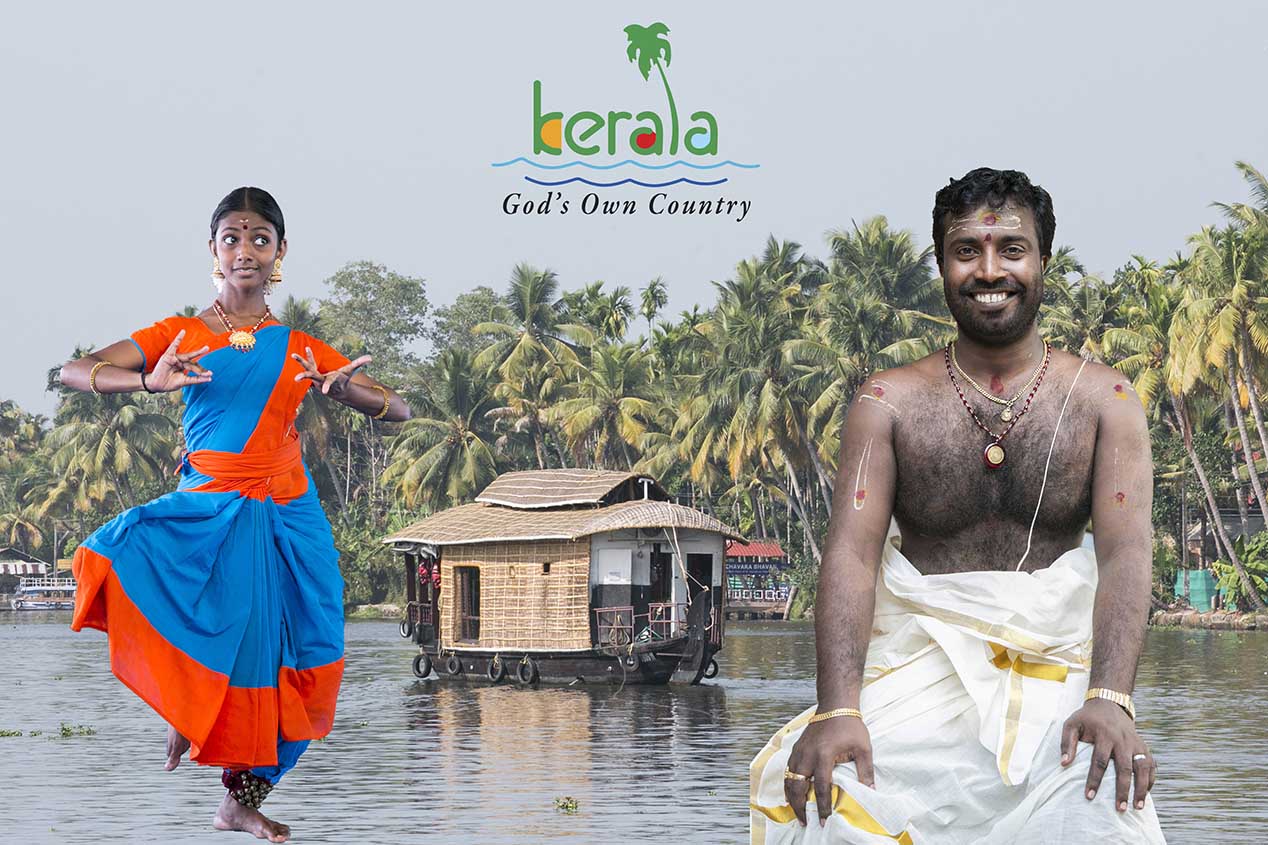 Discovering another face of India
India has a lot of facettes, sometimes paradoxical even, in the eyes of tourists and travellers. This country fascinates as much as it can cause worry. I mentionned it in in my previous article (before going on the trip) and I know some of you are still reticent to go due to its, sometimes, infamous reputation. But I promise you that Kerala will change your mind for good and show you a beautiful side of this country.
From what I had read :
With a population of over 34 million people, Kerala is one of the richest states in India. It's quite advanced in comparison to other regions on a social level. Keralites have the best quality of life and have access to excellent medical and educational facilites, on parr with some western coutries.
The state boasts a high level of literacy, way above the country's standard (for men AND women) and life expentancy is the highest in the whole Indian sub-continent.
With its communist political regime, Kerala is one of India's most stable states, where its citizens are the most involved. In terms of religions, communities of Hindus, Muslims, and Christinas live in tolerance and only few cases are reported in religion related crimes. Security and order is well maintained in this area too.

From what i saw and felt over there :
To be honest, even though I travelled comfortably around the region, my friends (girls) and I never felt unsafe, which seems to be the general consensus with other reports i've read from people who have travelled there. The region is clean, poverty is not so « in your face », people are extremely kind and hospitable, you don't feel stared at quite so much in a crowd, and you get less unsollicited interest from beggars, sellers, etc.
I would say that although the North of the country has so much to offer in terms of its rich history and culture, it may be more uncomfortable to visit for less experienced travellers.
One of the things i really enjoyed in a world terrorised by religion at the moment, was the harmony with which these different religions live together.
In the cities you'll literally find a synagog next to a church, right by a hindu temple below a mosque ! The believers seem to live in peace amongst each other. Kerala is a pioneering state in terms of their responsible tourism initiatives, which helps better the quality of life of its locals, by minimising its ecological impact and creating social endeavours. Pretty good idea if you ask me ! If you're still unsure, read on… !

Diversity and beauty of its landscapes and nature
For your info, Kerala means 'The land of Coconuts' in Malayalam (the main language in the south). And to be honest I have never seen as many in one place, and we've travelled a fair amount ! It's an absolute pleasure to be surrounded by these giant tropical trees. Sun is king in Kerala, 8 months of it for 4 months of rain, amazing ! On top of the fabulous weather, Kerala boasts some mesmerizing lanscapes and beautiful nature.


I was particularly stunned by the backwaters. The vast networks of rivers and canals that span throughout the west of the state are a must-see. It's gorgeous and peaceful and a chance to see how the local people live along the banks. It's worth taking a houseboat to truly get the full experience. I'll remember the beautiful views in the Alleppey region and the impressive sunset we shared on our first days of the trip.

Kerala is also about divine beaches and transparent waters of the south arabian sea. In the center, the agricultural valleys and its plains and green hills are beautifully designed, offering a horizon of tea plantations. In the East, you get dazzling views from the mountains over the deep valleys and forests of the Ghats. Fauna and flora are abundant in Kerala. I can't even name all the plants and herbs and spices and magestic hundred year old trees, but I can tell you there are leopards, elephants, monkeys, tigers, squirels, cormorans and more, that the national parcs try to preserve as best possible.




Hospitality from the people
I'd already spent some great times in this country and met some unforgettable people in the North, but this trip, as short as it was, felt even more welcoming from the inhabitants of Kerala. Warm, friendly gazes, smiles, waves, and a seemingly genuine curiosity and desire to talk to travellers were commonplace. Contact was easily made, people are really chilled out, and extra knowledgeable which made it a pleasure to chat with them.



For those portrait photography fans, you'll be happy to know the southerners are even less camera shy than in the north. But be careful, get ready to be snapped too, because the « selfies » craze has hit this region too, and they all love to take photos with their new traveller friends… We had a good laugh posing with them…


A few anecdotes…… I still rememebr the day i got lost accidentally on purpose,a nd ended up meeting a Brahman I got along with really well. He was curious about my travels and I about his way of life in the temple. I stayed with him for over an hour, he introduced me to all the people as he explained how the this place of worship worked. They were preparing the celebration of the festival for that evening, and whilst my colleagues were kayaking in the backwaters, I took the time to discover the natural rhythm of life here. A little priveledged moment, just how i like them… I also recall the time I spoke ot the fishermen on one of the Marari beaches, not far from the luxury hotel we had lunched in. They were fixing up their nets, in the shade of the noats and coconut trees. I was only with them for 20 mins or I'd have missed the bus, but I'd have easily spent the rest of the day in their company…


Activities
There is no shortage of activities and things to do in Kerala. I'll give more detail further down, but I recommend staying in the area at least 10 to 15 days to discover a fair amount of things.
For those looking for a good rest, there are plenty of splendid beaches in the south (Marari, Koyalam, Varkala etc…) You can also enjoy a unique experience, restful and rather luxurious, on a traditional houseboat, along the backwaters od Alleppey (more abou this in another article) .
Another very relaxing and enjoyable exerience, is Ayurvedic treatments which have nursed people back to heatth for centuries, or simply doing yoga in sumptuous decors.




For children and any animal lovers, definitely visit some of the many national parcs to see wild animals in their natural habitat.


IF you're rather sporty, why not trek in the Western Ghats, its totally worth the view. We loved discovering this part of Kerala, classed as Unesco heritage, and camping under the stars in Kolikkumalai. It's alos worth going via Calicut or Wayanad, and have fun with outdoor activites such as zipwiring over a lake, canoeing, mountain biking, archery, bamboo rafting or even zorbing…

For the curious cats, you could check out the tea plantations near Munnar, discover what those spices you use for home cooking all the time actually look like when fresh, in of the Amaravathi plantations. You could explore the thousand year old caves in Edakkal and learn more about the region in one of the many museums of the Muziris program. Or maybe try to understand the lives of artists, craftsman and farmers in Kerala thanks to the responsible toursim program of Kumarakom… For those who love cooking, you'll find lessons offered by certain centers and hotels. Obviously, I can only recommend getting lost on your trail and meeting the locals, in the markets, villages and town centers, you're sure to have a story to tell…




Culture
Culture and art is at the heart of the of Kerala life. There are a number of temples and and frequent Hindu festivals that liven up the roads and villages all year round. When you're there you'll no doubt bump into one of their colourful and noisy processions accompanied by elephants, musiciens, and dancers, fervently celebrating their beliefs… personally, i loved it. Definitely tag on to a procession, enter temples respectfully, there's no better way to immerse yourself in their lifestyle and traditions.


Apart from Religion, tradtional arts and dance theatre is a central part of the Kerala identity. The inhabitants are proud pf their cultural heritage, respect it, and work hard to preserve them. The reason i mention it is that we were lucky enough to visit the most famous arts and culture school in Kerala : the Keralam Kalamandalam. We were even treated to a privaye viewing of a perfromance, where one of the professors showed us various forms of the arts, and explained their significance. I woulndn't say the secrets of Kathakali, Mohiniyattam or Bharatanatyam were revealed to us entirely, but the experience was unique. These particular art forms are beatiful, surprising and fascinating to watch. You may not get to the chance to visit a school as we did, but i really recommend trying to see a Koothu, Kathakali or Kuchipudi performance… These theatres are dotted around everywhere, and sometime certain hotels will have them on offer. You won't regret it !



Food
To be honest the food in Kerala was not memorable for me as I'm not a big fan of spicy food. One must aknoloedge his weaknesses, and i believe my palate is not of the finest a with very low tolerance for spices, so i will not tell you that food is not good in Kerala. My colleagues seemed to be overwhlemed by the choice of food (vergetarian or not), throwing themselves on all of it to try everything out over the two weeks.



I've got a weak palate, but hey, when i'm travelling, i try to make an effort, so i tried a number of things, and i did like quite a few… I can't remember any names though.
To top it off we sampled a traditional Keralese meal in one of the hotels : the Sadya. This mea lis presented on a banana leaf, which was particularly tropical and awesome. (Thanks hotel Windflower Resorts and Spa for that experience)
Luxury & crazy hotels
For those who know us, we usually travel rather in mode to backpacker. And this time, during the Kerala blog express3, we were received "as VIP" in the most beautiful resorts of the state.
Magnificent, surprising hotels, or downright unusual, with always with an attentive and smiling staff … A pleasure.




















Then even if usually we share rather our discoveries of small reasonable hotels, guest house or youth hostels, I shall share with you in a next article the hotels of madmen for which I had a real crush.
Always said you that for the price of an average hotel in France, you can live a luxurious experience in Kerala …
Then, who leaves to Kerala now?
-Arnaud-
More Kerala Pictures ? Follow us on Instagram : le_tour_du_monde_a_80cm